Armed with the music, a camera, a notepad and a pair of headphones, Michael Burdett travelled the length and breadth of the UK to find 200 people prepared to stop, listen and talk. We meet the people he photographed and hear their stories.
What was the experience like? Were they moved by it? And how does it feel to be one of only 200 people to hear the track in 40 years? Their answers are often surprising and touching, as people share so much more than their thoughts on the recording...
Here is a selection of stories from the book.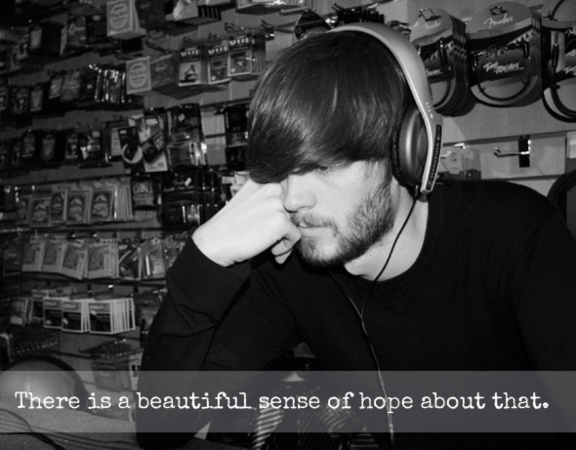 As I walked into a guitar shop on the outskirts of London and explained to Rob what I was doing he said two things.
'Things like this don't actually happen.'

'Hang on while I lock the door.'

He was not going to be disturbed as he seized the moment to listen and completely embraced his four minutes and twenty two seconds, sucking in every note, hum and twist and turn.
Afterwards he said, 'That was absolutely stunning. It was a quite simple but elegant arrangement.'
We talked a bit about music and Rob told me that he had been in various bands himself.
'Which band had the worst name?' I asked.
He didn't hesitate. 'There, There, Jane'.
I smiled, although secretly I quite liked it.
He unlocked the door, looking visibly moved by what had just happened. We shook hands and I walked out. Then I poked my head back round the door and told him that there was a queue outside consisting of many people with unreleased tracks by interesting artists ready for him to hear.
'Oh,' he said, 'send in the guy with the Jimi Hendrix tape first.'
Name: Rob, music shop assistant
Likes: various, especially John Martyn
Familiar with Nick Drake's music? Very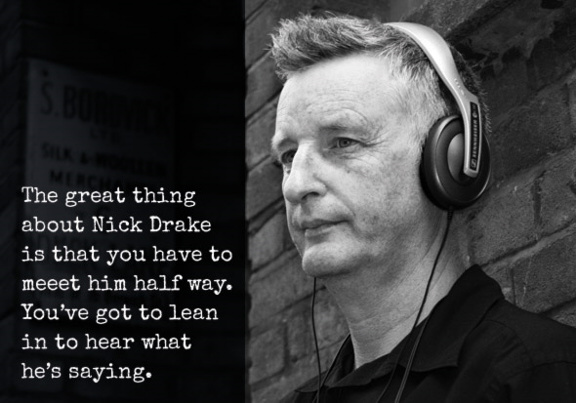 How badly this encounter started. When Billy put on the headphones nothing happened. The fifteen-year-old CD player that had been through so much with me had packed up.
Billy had some filming to do in London so I set off to find an identical (for continuity purposes) CD player and we arranged to meet up later. I wasn't too hopeful.
I walked into the first electrical shop I came to in Tottenham Court Road (the Mecca of all things electronic in London) and there sitting in the display case was my exact same CD player. Not only that…it was in a box. Brand new but fifteen years old. I bought it and walked back to meet up with Billy.
He would probably be the first to admit that Nick Drake is possibly a bit too pastoral for his taste, but on a professional level he absolutely gets him.
'There is wonderful craftsmanship in his lyrics,' he said. 'There are elements of early Paul Simon there. Pre Bridge Over Troubled Water.'
'If I was living in a bed-sit aged 19 years old that song would have summed up my day.'
Name: Billy, musician
Likes: Jackson Browne, Tom Waits, Ry Cooder, Bob Dylan
Familiar with Nick Drake's music: Yes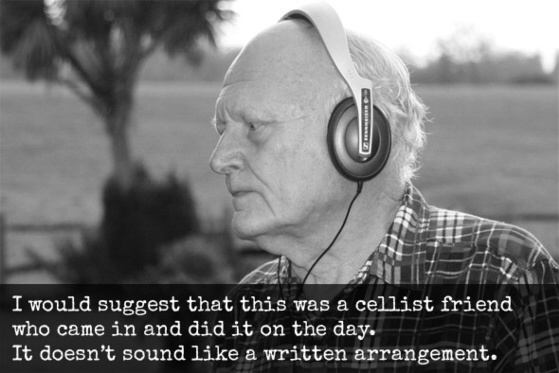 Richard Hewson's name may be familiar to Nick Drake fans. Before the sessions at Sound Techniques that resulted in Five Leaves Left, there were some early recordings including Richard Hewson arrangements. When these were rejected, the door was open for Drake's university friend Robert Kirby and Harry Robinson to step in.
It had been suggested that the version of Cello Song I had rescued was a Hewson arrangement, so I decided there was really only one way to find out. What would Richard have to say? I wondered.
I met up with him at his home in Sussex and he turned out to be a real joy: hospitable, informative, funny and kind. He told me it was not a song he recognised, hence not a Richard Hewson arrangement at all. That out of the way, we discussed his memories of Nick Drake.
'I don't think I ever met him,' he said. 'The sixties and seventies were such a busy time for me that it was absolutely non-stop.'
Part of the process of getting music right is sometimes getting it wrong and Hewson's arrangements of Nick Drake's material back then, although not right for Drake, are not bad. Not bad at all. They were just not what was required.
Hewson started off as a guitarist and he was complimentary about Drake's performance on this version of Cello Song. 'He keeps the whole track going with his very accurate guitar playing.' He then asked a question that had cropped up a number of times on my journeys.
'It has an Indian influence. There's a cello run in an Indian raga-like scale, which is not the sort of thing that is ever written down. I wonder which came first, the cello or the voice?'
This was the first time I had really thought about this because on the released version the cello acts in a call-and-response manner but on this unreleased version Drake puts himself with the cellos occasionally singing the same line as they are playing. On the later version, it has been paired down.
Maybe there is still a cellist out there who knows what came first. But as Joe Boyd has no memory of the session, John Wood remembers the guitar and vocals but does not recall recording a cellist on it, Richard Hewson didn't arrange it and the musicians on the released version, didn't play on it, the recording's genesis becomes more shrouded in mystery. However it remains a wonderful, historic piece of abandoned music and maybe that's all that actually matters.
Hewson continues to write dance music and, just in case you felt the tiniest bit sorry for him because some of his arrangements didn't get used over forty years ago on some Nick Drake recordings, the following is a list of some of the artists whose work his arrangements have adorned: The Bee Gees, James Taylor, Herbie Hancock, Clifford T Ward, Supertramp, Diana Ross, Carly Simon, Art Garfunkel, Mary Hopkin, Al Stewart, Fleetwood Mac and Chris Rea.
Oh, and The Beatles.
Name: Richard, arranger, songwriter, producer
Likes: Stravinsky, Bill Evans, Jim Hall, Swedish House Mafia
Familiar with Nick Drake's music: Not really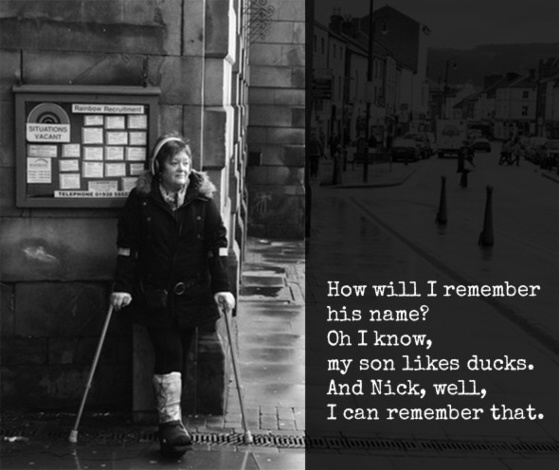 It was a grey drizzly February day. I was walking uphill and was catching up with the woman in front of me. It wasn't that I was particularly fast, but she happened to be carrying a huge number of cumbersome carrier bags, all full. Oh, and she was walking with crutches.
As I drew level, I offered her some assistance but she said that she could manage. In fact, she was quite insistent. Although I admired her determination and independence, I was not going to let her struggle anymore so I took a couple of bags from her and we walked along together.
It turned out that Janet had just had some bones fused and she admitted that she had been told not to carry any weight. I didn't ask which bones because just the phrase 'bones fused' had me limping and queasy.
I gave her the opportunity to hear the track and she immediately said, 'Oh, go on then.' While she listened, she was interrupted a few times by people driving or walking past waving at her. Each time she pointed at the headphones on her head and mouthed, 'I am listening to something' in the way that Les Dawson used to do when he would utter an unfinished sentence silently, with his lips exaggerating the words. 'That was quite, quite lovely,' Janet told me when the track had ended before disappearing into the charity shop she had been heading to all along.
Name: Janet, chef
Likes: Shania Twain, Celine Dion, Whitney Houston
Familiar with Nick Drake's music: No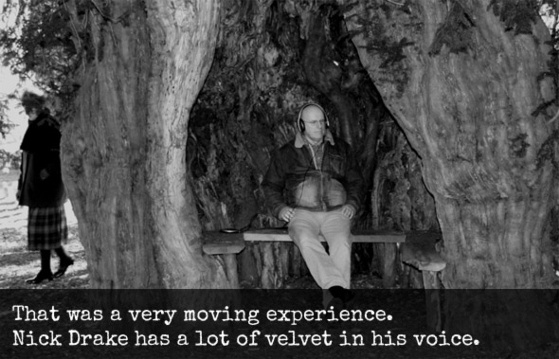 Melvin was looking at his father's grave when I went up to him. I wasn't to know that, otherwise I probably wouldn't have approached him at all. We started talking and the conversation eventually moved to music and to Nick Drake. Melvin was aware of Nick Drake's material right from the start because he had sampler albums that had Drake tracks on. I suspect that he was talking about Bumpers, El Pea and Nice Enough To Eat, which were three compilations brought out by Island Records in the late sixties and early seventies. Melvin told me that he liked the songs as soon as he heard them but remained unaware of Drake's death until a few years after the event. 'He died without me noticing,' he said.
The tree, which is one of the largest in the United Kingdom – certainly over seven hundred years old – is a yew. It stands in the churchyard at Much Marcle, Herefordshire. Melvin barely moved a muscle all the time he listened to the track. Afterwards he commented on the surreal nature of what just happened and told me that he had been sitting in a tree where both his late father and grandfather had done their courting. I asked if he had done any courting under the tree. 'No,' he replied, rather quickly.
Name: Melvin, factory worker
Likes: Led Zeppelin, Cream, Pink Floyd, Thunder, folk
Familiar with Nick Drake's music: Very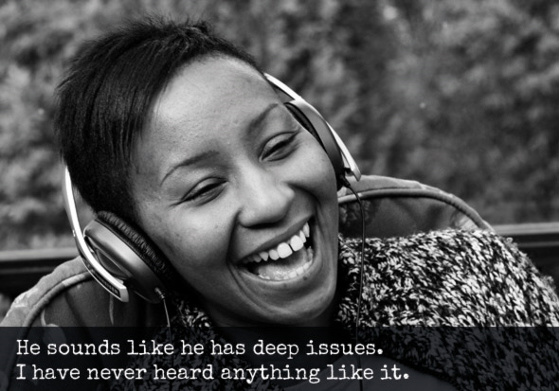 Linda really enjoyed the recording and said that it was something you would have to listen to again because it causes you to think. She also thought that it was the sort of song where the words alone would be enough. Linda works in a dementia unit at an old people's home and any break in her day that puts a smile on her face is entirely a good thing. I loved the fact that she got the giggles just towards the end of the track as it started to fade.

Name: Linda, care worker
Likes: Kirk Franklin, Jesus Culture, Marvin Sapp, Whitney Houston
Familiar with Nick Drake's music: No